FREE VOUCHERS – 100% POINT BACK WHEN USING THE "TOP-UP POINT" FEATURE
Only from Mar 20 to Mar 31, 2023, get 100% point back when using our new "Top-up Point" feature, redeem a voucher for free! (*)!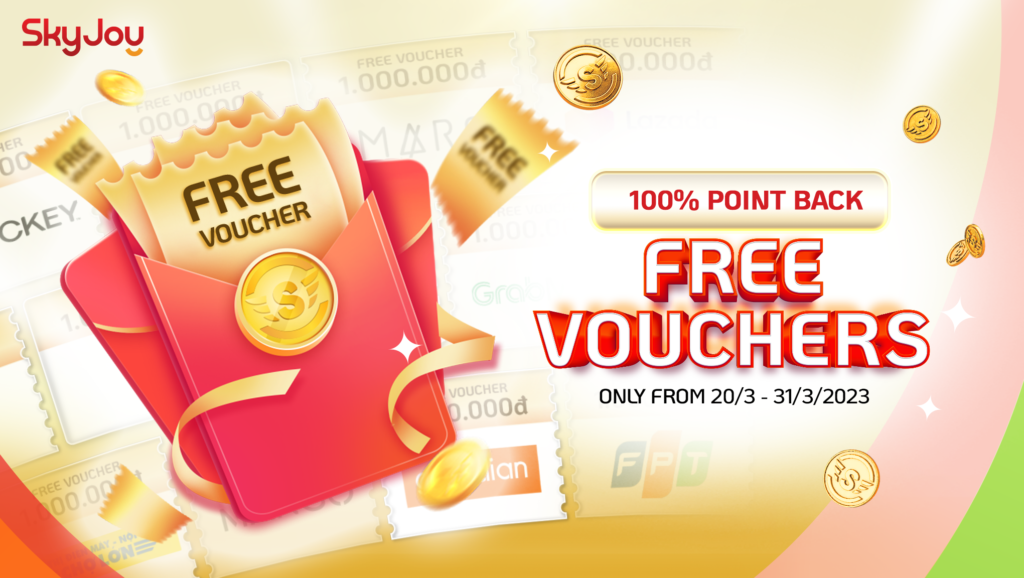 Over 250 much-loved brands like Phuc Long, Starbucks, Shopee, Lazada, Tiki… are waiting for you to redeem for free!
For example: You want to redeem a Tiki voucher worth 20,000 SkyPoints, but you only have 17,000 SkyPoints => you need to purchase an additional 3,000 SkyPoints to redeem. If you are one of the first to purchase SkyPoint each day (from now until March 31st), you will receive 100% point back for the Tiki voucher you redeemed, which is 20,000 SkyPoints!
It's super exciting! Just follow these 4 simple steps and you'll be all set:
Step 1: Choose your voucher and click "Redeem."

Step 2: Check your SkyPoint balance. You can choose the minimum, maximum, or any amount of points to redeem for the voucher, and purchase any remaining points if you don't have enough.

Step 3: Select a domestic or international payment method

Step 4: Confirm and complete payment
Register now to get a free voucher when using "Top-up Point" feature: https://onelink.to/4845mn
(*) Terms and conditions:
– 100% point back is applicable for SkyJoy member doing Point top up from 20 – 31 Mar
– Number of point back slot is limited daily, available on first come first serve basis, reset at 9AM
– Members who receive 100% point back will be informed via in-app notification 1 working day after the successful top up transaction
– Points from the Point back campaign will be accrued to Member account within 5 working days from campaign ends (3 – 7 Apr)
– Members must not breach the Terms and Conditions listed at https://skyjoy.vietjetair.com/terms-conditions/#skyprogram
– In case of any dispute, GalaxyJoy will hold the final decision
– This campaign is not applicable for GalaxyJoy staff
– One members can receive one time throughout the campaign