MIGRATION OF SKYCLUB MEMBERSHIP PROGRAM TO VIETJET SKYJOY – ELEVATE CUSTOMER EXPERIENCE TO NEW HEIGHTS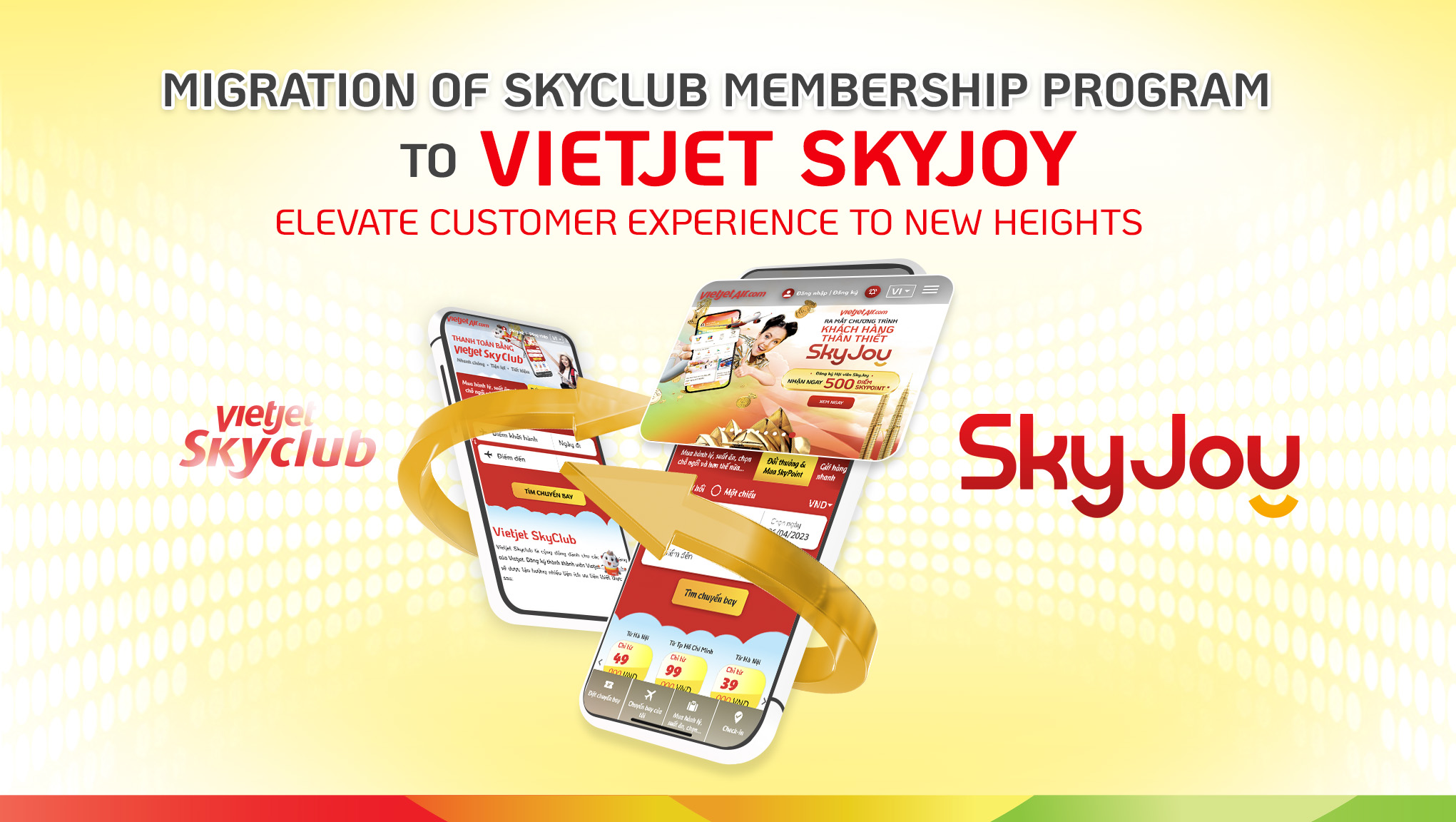 In an effort to deliver a convenient and limitless exclusive experience for Vietjet customers, the Vietjet SkyClub program will be upgraded to Vietjet SkyJoy, and the SkyClub payment method will be upgraded to the SkyPay e-wallet.
As a result, effective from 0:00 on May 4th, 2023, Vietjet SkyClub accounts will temporarily stop accepting deposits.
Customers can continue to use the remaining balance in their Vietjet SkyClub account to pay for Vietjet services until 23:59 on May 6th, 2023.
From 0:00 on May 7th, 2023, to 23:59 on May 10th, 2023, the system will undergo updates and create new Vietjet SkyJoy loyalty membership accounts and SkyPay e-wallet accounts for customers. All remaining balances in customers' Vietjet SkyClub accounts will be transferred to their SkyPay e-wallet accounts, and can be used to purchase air tickets as well as other ancillary products and services provided by Vietjet.
Kindly verify the current information registered with Vietjet, and if there are any updates or changes required in your contact details (email, address, etc.) compared to the information provided, please update your information via the website www.vietjetair.com, Vietjet Mobile App, Vietjet Customer Service Hotline: 19001886, or Vietjet Customer Service Email: 19001886@vietjetair.com before 0:00 on May 7th, 2023. After this time, please contact Vietjet SkyJoy Call Center at 1900 638 380 or email care@skyjoy.vn from May 11, 2023 for assistance with updates.
As of May 11th, 2023, customers will be required to activate their Vietjet SkyJoy loyalty membership account and SkyPay e-wallet account to maintain access to the privileges of the loyalty program, and to earn and redeem SkyPoint for Vietjet air tickets as well as over 250 much-loved brands in Vietnam through the Vietjet SkyJoy.
Vietjet encourages you to proactively utilize services and seek your collaboration during this migration period. Limitless joy made easy with Vietjet SkyJoy!
For detailed information about the migration program, please visit: Here
Or contact the Vietjet hotline: 1900 1886
Email CS team: 19001886@vietjetair.com