SIGN UP FOR VIETJET SKYJOY MEMBERSHIP – EARN YOUR SKYPOINT TO REDEEM FLIGHT TICKETS & HOT VOUCHERS

To bring customers the best experiences, Vietjet SkyJoy continuously introduces exclusive privileges that cannot be found in any other loyalty programs.
Prominent among them is the exclusive privilege of registering for a Vietjet SkyJoy membership account and receiving SkyPoints from Vietjet flights since December 24th, 2022.
Along with two extremely attractive benefits:
🎉Receive an extra 500 SkyPoints upon downloading and registering the SkyJoy app
🎉Instantly redeem free Grab vouchers (*): GrabBike – 10k or GrabCar – 30k
Becoming a Vietjet SkyJoy member, easily exploring a limitless journey of rewards ranging from Vietjet flight tickets to vouchers from over 250 much-loved brands in Vietnam.
🎁Only 2,500 SkyPoints can be redeemed for a HCMC – Da Lat flight ticket; 5,500 SkyPoints can be redeemed for a HCMC – Phu Quoc or HCMC – Bangkok flight ticket; 8,500 SkyPoints can be redeemed for a HCMC – Hanoi or HCMC – Singapore flight ticket;… (**)
🎁Only from 100 SkyPoints, redeem a series of vouchers from over 250 much-loved brands such as Grab, Samsung, Vascara, Yody, Ogawa, Maison Online, Salinda Resort Phu Quoc,… 
Instructions to sign up for Vietjet SkyJoy membership account:
1. Download SkyJoy
Download SkyJoy app at: https://onelink.to/4845mn or download the app on App Store/ Google Play Store
2. Sign up SkyJoy
Sign up on the SkyJoy app with personal details that match your flight information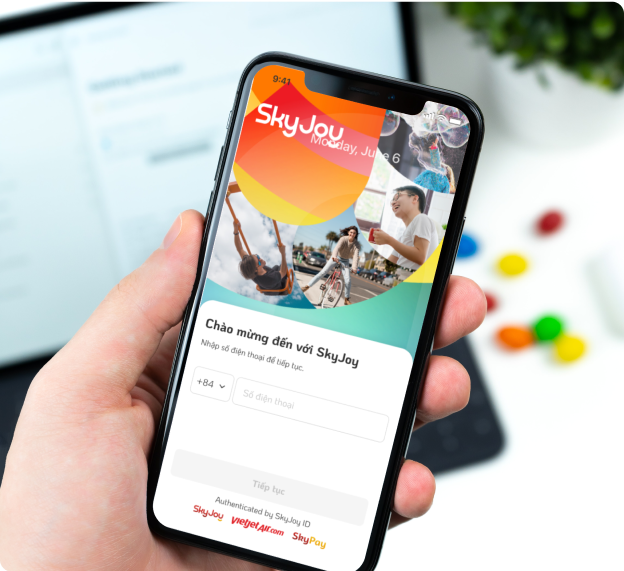 3. Verify your account
Verify your account and SkyPoint will be added to your account within 24 hours after you complete verifying
Learn more how to verify your account at: https://skyjoy.vietjetair.com/huong-dan-xac-thuc-tai-khoan-hoi-vien-vietjet-skyjoy/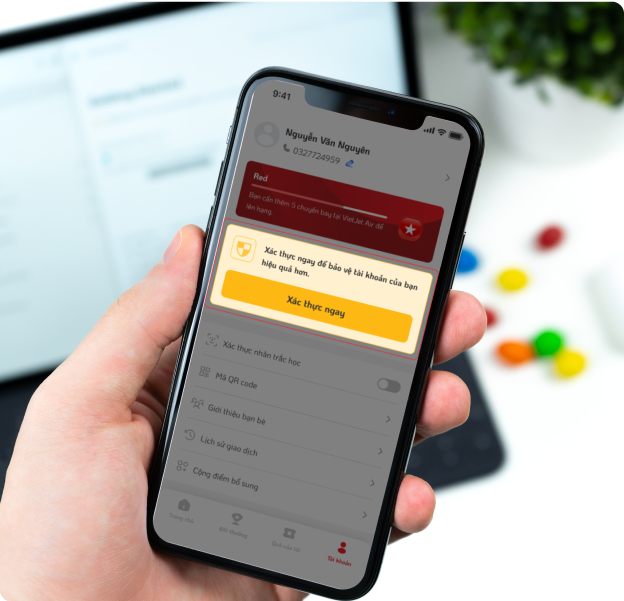 GUIDE ON HOW TO REDEEM REWARDS WITH SKYPOINT
1. Redeem Vietjet flight tickets
2. Redeem vouchers from over 250 HOT brands
– Step 1: Open the SkyJoy app, select the 'Redemption' section.
– Step 2: Choose the voucher you want to redeem and click 'Redeem'
– Step 3: Select the minimum and maximum amount of SkyPoints you want to use for redemption. If insufficient points for redemption, you can purchase more SkyPoints by cash.
Note: You need to complete Account Verification to be eligible for redemption. Watch the account verification steps in the instructional video:
Sign up your Vietjet SkyJoy Membership account quickly to enjoy exclusive privileges. Limitless Joy Made Easy with Vietjet SkyJoy!
(*) Applicable to new members registering from August 7, 2023. Limited quantity available; the program may end earlier than expected without prior notice.
(**) Fixed Point flight tickets do not include taxes and fees. See the list of applicable routes for redeeming Fixed Point flight tickets at https://skyjoy.vietjetair.com/danh-sach-cac-duong-bay-ap-dung-doi-thuong-ve-may-bay-fixed-point/