SKYJOY MEMBERS BOOK VIETJET TICKETS – RECEIVE UP TO 3003 SKYPOINTS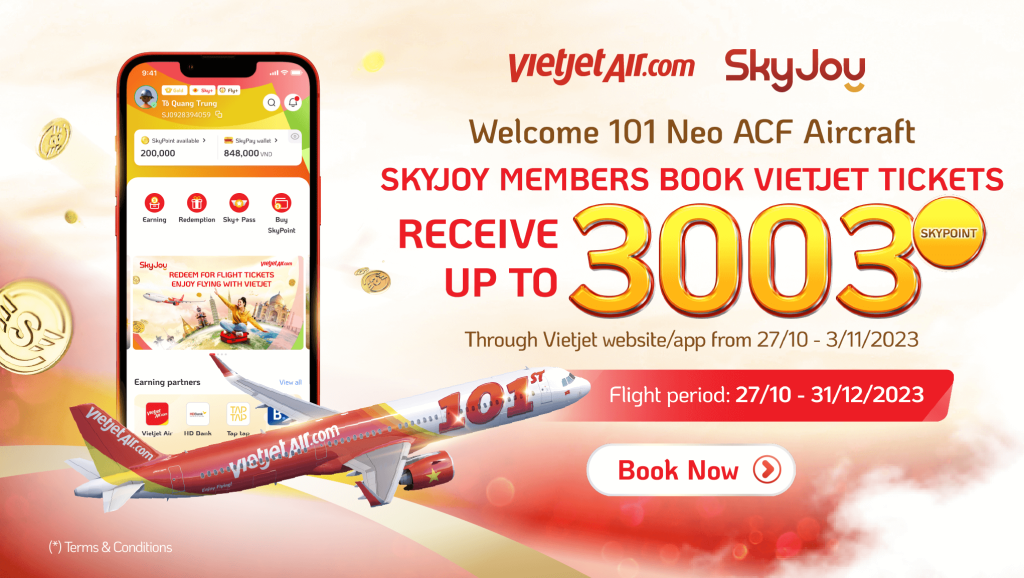 1. Promotional scheme: Welcome 101st aircraft, Vietjet bonus up to 3003 SkyPoints for every SkyJoy member when booking a flight with Vietjet.
– 1001 SkyPoints for Red – Silver members
– 2002 SkyPoints for Gold members
– 3003 SkyPoints for Diamond members
2. Routes: All routes
3. Booking time: From 00h00 on Friday, 27 Oct to 23h59 on Friday, 3 Nov 2023 (GMT+7)
4. Flight date: From 27 Oct to 31 Dec 2023
5. Booking channels:
– Website: www.vietjetair.com
– Vietjet Air App on Google Play & App Store
6. Terms and Conditions:
– Members must input valid SkyJoy ID when making a booking or before departure time on Vietjet Air App and Website to get bonus points.
– Only apply for SkyJoy members who is a passenger.
– One user can only get 1 time of bonus points during the program period, apply for first eligible booking during campaign period.
– Bonus points will be injected to SkyJoy member account within 7 working days after campaign end.
– Bonus points will be allocated based on the member's tier as of the booking date.
– If the booking is canceled, the bonus points will be withdrawn without any notification.
– This campaign can not be combined with other promotions from Vietjet and SkyJoy.
– Promotional days are subject to change due to the limitation of SkyPoint.
– SkyJoy members can only receive bonus points if the account does not violate the SkyJoy Loyalty Program terms and conditions.