EXCLUSIVE REDEMPTION – FREE 4-MONTH GRABUNLIMITED PACKAGES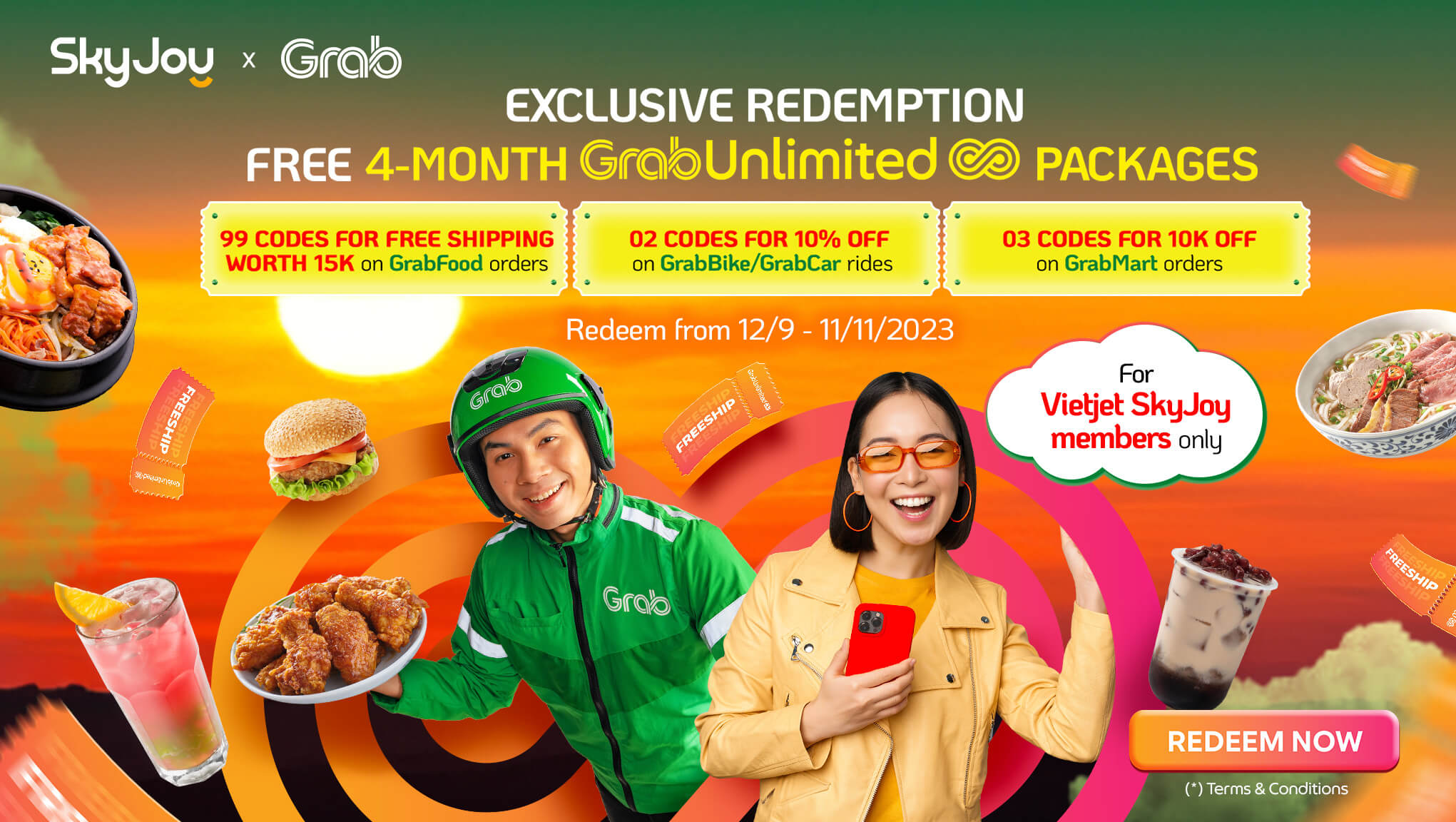 Content
Get a 4-month free GrabUnlimited Membership package of Grab when:
– Redeem with 0 SkyPoint if you are the Gold or Diamond tier of SkyJoy Member
– Redeem with 5 SkyPoints if you are the Red or Silver tier of SkyJoy Member
Term and conditions
– Redemption time: from September 12 to November 11, 2023
– Each SkyJoymember can only redeem voucher once throughout the program.
– Applicable locations: Applied to Grab services in Ho Chi Minh City, Hanoi and Da Nang.
– The total quantity of vouchers is limited, and the program may end earlier than the expected time without prior notice.
– Members update the latest versions of SkyJoy and Grab applications to use the promotion.
– SkyJoy members need to activate the GrabUnlimited Subscription before the program expires.
– GrabUnlimited Subscription is applied only for users who have not registered GrabUnlimited Subscription.
– GrabUnlimited Subscription is non-transferable, non-refundable and cannot be exchanged for cash.
– The GrabUnlimited Subscription will be automatically lost when the user cancels the GrabUnlimited package before the free trial period and will not be refunded.
– The GrabUnlimited Subscription cannot be combined with other offers (regarding to the subscription to GrabUnlimited Package)
See more program details at: https://www.grab.com/vn/grabunlimited/
In case SkyJoy members need support for the GrabUnlimited Subscription, please contact Phone number (028) 7109 8590 – Press 3 for Vietnamese support or Press 4-1-4 for English support or Grab website: https://help.grab.com/passenger/vi-vn/; or Grab App: Select Account -> select Help on Grab App
Instructions
After successfully redeeming rewards on SkyJoy application, SkyJoy Members follow these steps to activate and use the GrabUnlimited Subscription:
Step 1: At "My Rewards" on SkyJoy app, click "Gói Hội Viên GrabUnlimited" and click "Use now"
Step 2: After redirecting to the "Free trial GrabUnlimited" page in Grab application, members click "Redeem" to claim the GrabUnlimited Subscription. Note: It might take 10 minutes for the system to process and update for new GrabUnlimited Members. Members will receive a Grab app notification once the process is completed.
Step 3: After 10 minutes or after receiving the notification, SkyJoy Members can fully access to all benefits of GrabUnlimited Subscription by:
Clicking the notification to arrive the offer page and click "Use"
Or going to Grab application, select "Account" > "Subscriptions" > Under "Browse" tab, select GrabUnlimited Subscription 4 months free-trial > select "Get This Package".
Note: Please check the number of free months and only subscribe the GrabUnlimited Subscription with 4 months free-trial.